The expansion of Derby during the 1930's led to the closure, in 1938, of the Markeaton Golf Club when the area was earmarked for development. The Markeaton Golf Club had been formed in 1895 and was one of the founding clubs of the Derbyshire Union in 1913. It was located on Kedleston Road on land, which is now occupied by the University of Derby.
When closure was imminent the club commissioned the respected course architect, and five-time Open Champion, James Braid, to design a course over mature parkland in the grounds of Kedleston Hall.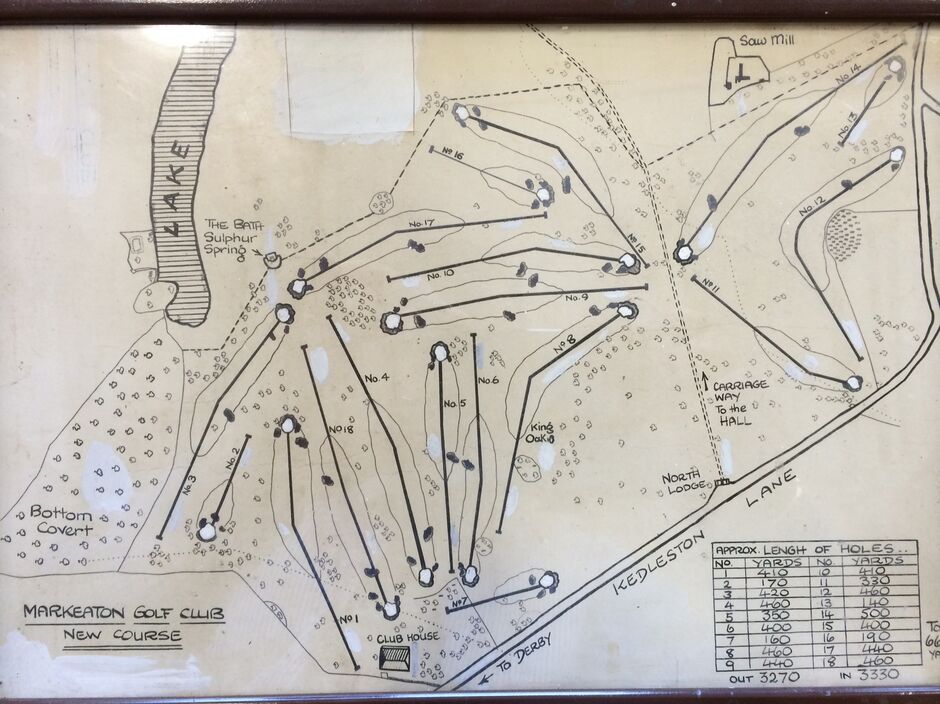 The original James Braid course design
The onset of the Second World War in 1939 prevented construction, but in 1946 Kedleston Park Golf Club was formed.
John Morrison, from renowned course architects Colt, Alison and Morrison, was appointed to finalise the plans for the course using Braid's original design.
Two companies were approached to construct the course, J R Strutt Ltd, whose proprietor, John Strutt was an old colleague of Braid and Frank Harris Ltd. The machinery to maintain the course was obtained from the now defunct Markeaton Club. The course was one of the first to be created after the end of the war.
Kedleston Park has been further developed over the years whilst keeping its original layout. The greens were fully reconstructed in the late 1990's to the latest USGA's sand based specification, while a three-year renovation and improvement project to the courses bunkers, mounds and greenside complexes has been made under the expert guidance of Tom Mackenzie, of world-renowned golf course architects, Mackenize and Ebert in preparation for hosting The Open Qualifying from 2018.