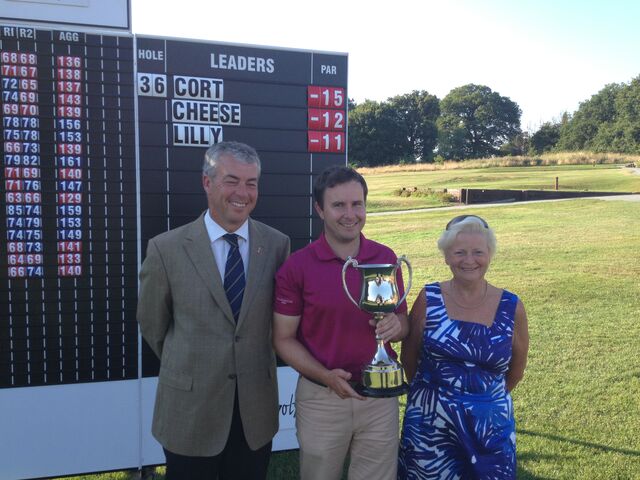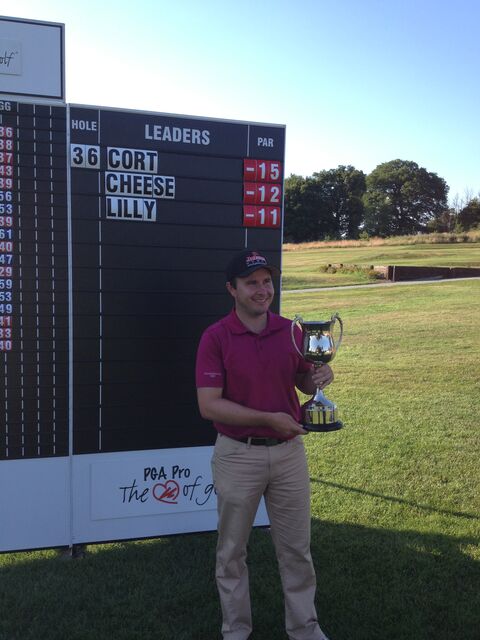 Rothley Park's Matthew Cort (above) shot a stunning first round 63 to set up his second Midlands Masters victory.
Cort added a second round of 66 to finish three shots clear of Sutton Coldfield's Andrew Cheese at Kedleston Park.
Simon Lilly (Wellingborough) was a shot further back as Cort added this year's Masters title to the one he won in 2007.
The Leicestershire golfer got off to a flying start with four birdies and an eagle on the front nine of his first round. He added four birdies with a just the one blemish for his 63 in the morning to take a one-shot lead over Lilly.
In the afternoon he notched another seven birdies with just the one bogey to keep his rivals at arms length.
Cort said: "It's a cracking tournament and we've played on a great course. I love the course and it's the second time I've won it now. It's not a walkover this course but it does produce low scores."
He added: "It was low scoring in the Pro-Am so I didn't know what to expect. The course is pretty soft with the greens so that's why the scoring is so low. It is probably some of the best golf I've played over 36 holes, I had a couple of bogeys but I kept in play and tried to hole some putts and it equals my best ever score.
"My iron shots were good you've got to hit the fairways then with the soft conditions you can really fire it in there. I was seven under after 10 holes but you're still wary because one bad shot can ruin it. It is brilliant to win it again and I'm chuffed."
The win took Cort to the top of the PGA in England (Midlands) Order of Merit standings with 615 points but he is only five points clear of Lilly. Third place is held by South Staffordshire's Peter Baker on 500, with Lincoln Golf Centre's Paul Streeter (495) and Cheese (490) completing the top five.
The top three players at the end of the season will qualify for the Titleist PGA Play-Offs on the PGA Sultan Course, at Antalya Golf Club, Turkey.


Pos
Player
Scoring To Par
Rounds
Total
Points

Prize Fund
Total
Thru
Current
1
2


1
Matthew Cort

Rothley Park Golf Club

-15
F
-6
63
66
129
270.00
£1,500.00


2
Andrew Cheese

Sutton Coldfield Golf Club

-12
F
-6
66
66
132
240.00
£968.80


3
Simon Lilly

Wellingborough Golf Club

-11
F
-3
64
69
133
220.00
£680.80


4
James Whatley

Morley Hayes Golf

-8
F
-4
68
68
136
200.00
£535.00


T5
Craig Shave

Whetstone Golf Club

-7
F
-4
69
68
137
185.00
£399.60


T5
Mark Smith

Erewash Valley Golf Club

-7
F
-7
72
65
137
185.00
£399.60


T7
Daniel Wood

Brampton Heath Golf Centre

-6
F
-4
70
68
138
165.00
£299.80


T7
Joshua Thornton
-6
F
-4
70
68
138
165.00
£299.80


T7
Stuart Davis

Kedleston Park Golf Club

-6
F
-5
71
67
138


£299.80


T10
Daniel Greenwood

Forest Pines Golf Club

-5
F
-2
69
70
139
145.00
£217.60


T10
Christopher Evans

Wishaw Golf Club

-5
F
+1
66
73
139
145.00
£217.60


T12
Jak Hamblett

Handsworth Golf Club

-4
F
-3
71
69
140
120.00
£163.84


T12
Jack Lynch

Horsley Lodge Golf Club

-4
F
-2
70
70
140
120.00
£163.84


T12
Ian Walley

Kedleston Park Golf Club

-4
F
-1
69
71
140
120.00
£163.84


T12
John-Paul Banbury

Moor Hall Golf Club

-4
F
-3
71
69
140
120.00
£163.84


T12
Paul Streeter

Lincoln Golf Centre

-4
F
+2
66
74
140
120.00
£163.84


17
Peter Baker

South Staffs Golf Club

-3
F
+1
68
73
141
105.00
£148.00


T18
Andrew Jones

Stonebridge Golf Club

-1
F
-2
73
70
143
95.00
£131.47


T18
Nicholas Taylor

Kedleston Park Golf Club

-1
F
-1
72
71
143
95.00
£131.47


T18
Andrew Willey

Notts Golf Club

-1
F
-3
74
69
143
95.00
£131.47


T21
Daniel Clarke

Market Rasen & District Golf C

E
F
E
72
72
144
77.40
£88.00


T21
Scott Emery

Woodhall Spa Golf Club

E
F
E
72
72
144
77.40
£88.00


T21
Matthew Harrison

Burghill Valley Golf Club

E
F
-2
74
70
144
77.40
£88.00


T21
Shane Peacock

Oakmere Park Golf Club

E
F
E
72
72
144
77.40
£88.00


T21
Phillip Edwards

Phil Edwards Golf

E
F
+1
71
73
144
77.40
£88.00


T26
Joseph Smoothy

Robert Rock Golf Academy

+1
F
+5
68
77
145
60.50
£63.33


T26
Alec Smith

Trentham Park Golf Club

+1
F
E
73
72
145
60.50
£63.33


T26
Matt McGuire

Stoneleigh Deer Park Golf Club

+1
F
+3
70
75
145
60.50
£63.33


T26
Brian Rimmer

Little Aston Golf Club

+1
F
E
73
72
145
60.50
£63.33


T26
Adam White

Perton Park Golf Club

+1
F
+1
72
73
145
60.50
£63.33


T26
James Stafford

Burton On Trent Golf Club

+1
F
-1
74
71
145
60.50
£63.33


T32
Matthew Whelband

Park Hill Golf Club

+2
F
-4
78
68
146
50.00




T32
Levi Desmond

De Vere Belton Woods

+2
F
-1
75
71
146






T34
Owen Evans

Three Hammers Golf Complex

+3
F
+2
73
74
147
43.00




T34
Jeremy Nicholls

Ledene Golf Centre

+3
F
E
75
72
147
43.00




T34
Daniel Hewitt

Newcastle Under Lyme Golf Club

+3
F
+2
73
74
147
43.00




T34
Thomas Rastall

Sleaford Golf Club

+3
F
+1
74
73
147
43.00




T34
Alasdair Thomas

Wollaton Park Golf Club

+3
F
+5
70
77
147
43.00




T34
Lee Clarke

Beeston Fields Golf Club

+3
F
+4
71
76
147
43.00




T40
Steve Carter

Walmley Golf Club

+4
F
+3
73
75
148
35.00




T40
James Crompton

Kenilworth Golf Club

+4
F
+2
74
74
148
35.00




T42
Ian Lyner

Leicestershire Golf Club

+5
F
+5
72
77
149
28.00




T42
Henry Walton

Stanton on the Wold Golf Club

+5
F
+3
74
75
149
28.00




T42
Mark Butler

Mark Butler Golf Academy

+5
F
+1
76
73
149
28.00




T42
Shane Owen

Trentham Golf Club

+5
F
+2
75
74
149
28.00




T42
Kevin Taylor

Brailsford Golf Course & Drivi

+5
F
+3
74
75
149
28.00




T47
Craig Swinburn

Riverbank Driving Range

+6
F
+2
76
74
150
19.00




T47
Shaun Ball

South Staffs Golf Club

+6
F
E
78
72
150
19.00




T47
Adam Myers

Northants County Golf Club

+6
F
+3
75
75
150
19.00




T47
David McNicholas

Normanby Hall Golf Club

+6
F
+1
77
73
150
19.00




T51
Adrian Carey

Walmley Golf Club

+7
F
+5
74
77
151
13.00




T51
Joshua Charnock

Shrewsbury Golf Club

+7
F
+6
73
78
151
13.00




T53
Nick Soto

Northampton Golf Club

+8
F
+2
78
74
152
9.50




T53
Daniel Lowe

Sandwell Park Golf Club

+8
F
+4
76
76
152
9.50




T55
Ben Challis

Lea Marston Golf Centre

+9
F
+6
75
78
153
7.00




T55
David Cranage

Menzies Welcombe Hotel Spa & G

+9
F
+6
75
78
153
7.00




T55
Keith Preece

Burghill Valley Golf Club

+9
F
+7
74
79
153
7.00




T58
Thomas Cheetham

Chase Golf Club

+10
F
+5
77
77
154
4.50




T58
Barrie Stevens

Beau Desert Golf Club

+10
F
+6
76
78
154
4.50




T60
Tim Rouse

Northants County Golf Club

+11
F
+6
77
78
155
2.00




T60
Richard Challoner

Mark Butler Golf Academy

+11
F
+1
82
73
155
2.00




T60
James Hale

Maxstoke Park Golf Club

+11
F
+6
77
78
155
2.00




T63
Simon Booth

Chilwell Manor Golf Club

+12
F
+8
76
80
156
1.00




T63
Joseph Biggs

Morley Hayes Golf

+12
F
+6
78
78
156
1.00




T63
Rodney Holt

Silverstone Golf Club

+12
F
+6
78
78
156
1.00




T63
Paul Bradshaw

Gainsborough Golf Club

+12
F
+6
78
78
156
1.00




T67
Matthew Southwell

Chase Golf Club

+13
F
+4
81
76
157
1.00




T67
Richard Reed

Notts Golf Club

+13
F
+5
80
77
157
1.00




T67
Martyn Brown

Oakmere Park Golf Club

+13
F
+7
78
79
157
1.00




T67
Luke Howe

Brocton Hall Golf Club

+13
F
+6
79
78
157
1.00




T71
Mike Gallagher

Farthingstone Hotel & Golf

+15
F
+6
81
78
159
1.00




T71
Adam Mason

AJM Golf

+15
F
+2
85
74
159
1.00




T73
William Davies

Melton Mowbray Golf Club

+17
F
+8
81
80
161
1.00




T73
Jonathan Newham

Mapperley Golf Club

+17
F
+10
79
82
161
1.00




T75
David Clark

Birstall Golf Club

+18
F
+6
84
78
162
1.00




T75
Warwick Holland

Redditch Pitcheroak Golf Club

+18
F
+12
78
84
162
1.00




77
James McDowall

Chevin Golf Club

+21
F
+11
82
83
165
1.00